Favourites: Mikyajy Products Round-up
Hello, gorgeous!
Mikyajy is one of the very first brands that I bought products from when I started liking makeup during my early teen years. It is what was trendy back then, but as I grew older, I moved to other brands. However, I have recently came across their page on Instagram, and saw that they have started updating their products and packaging. Hence, I was over the moon when I was contacted by the brand.
Back in August, I met with the brand representatives who came all the way to Abu Dhabi to meet the bloggers who are based here, which is very sweet and considerate of them. Over the past few months, I have also received some PR packages of their recent products. Thank you Mikyajy team!


While I haven't had the chance to go out and buy more products that I read or heard about in the meeting, I have been using the products I already have and thought it would be a great idea to write a round-up post about the products I have been loving.
Now that is a very long introduction, and I have a feeling it is going to be a long post, so I have divided the post into sections (by product). The first three products I will be talking about are from the Splendour collection, which is a limited edition autumn range, so I am not sure if they are still available.
Lets get started..
Splendour - Smokey Lines Eye Duo
This is one of my favourite products I have tried so far (as with all products in this post). I fell in love with it in the meeting and surprisingly, it was in my goodie bag after the meeting.
It is basically a double-ended eye duo, with a stick-cream eyeshadow on one end and a black eyeliner on the other end. As far as I remember, it comes in three or four shades, but I got the bronze one which is one of my favourite shades to wear on my eyes.
I haven't used the black eyeliner enough to review it, but I love the quality of the cream shadow. It goes on smoothly on the eyes with amazing pigmentation, and blends easily before it sets. When it sets, it stays on! It is easy to use and it is also long lasting, so its perfect for quick makeup looks as well as special occasions.
Splendour - Matte Blush Powder + Brush
First of all, can we take a moment to appreciate the pretty pattern on the blush? It probably took me a month to finally give in and use it, because the shade is just as pretty.
The blush has a matte finish, but it is so smooth and buttery. It is also VERY pigmented. A little bit goes a long way!
The collection also comes with an angled blush brush with the same pretty pattern on the handle. The quality of the brush is amazing as the bristles (synthetic) are very soft and the handle has a sort of luxurious weight to it. However, the bristles are densely packed so I always have to make sure that I don't pick up too much product, especially when I am using it with the Splendour blush.
Splendour - Nail Enemnal Set
At the moment, I have two types of nail polishes from the Mikyajy range - the polishes from the Splendour set which come with a matte top coat, as well as the strengthening polishes from the permanent line which were launched back in September.
So far, I have only used one of the polishes, from the Splendour range, but I was very impressed that I thought it was worth mentioning now.
Usually, nail polishes chip or crack on my nails after two or three days maximum. However, when I wore the Mikyajy polish in the gorgeous glossy burgundy shade, it lasted until I came to remove it. Of course, the tips of the polish were not as sharp and clean as when first applied, but the polish did not chip and it looked great. I sure will be using other shades soon.
Moisture Plus Lipsticks
Shades: 306 (nude) and 907 (brown)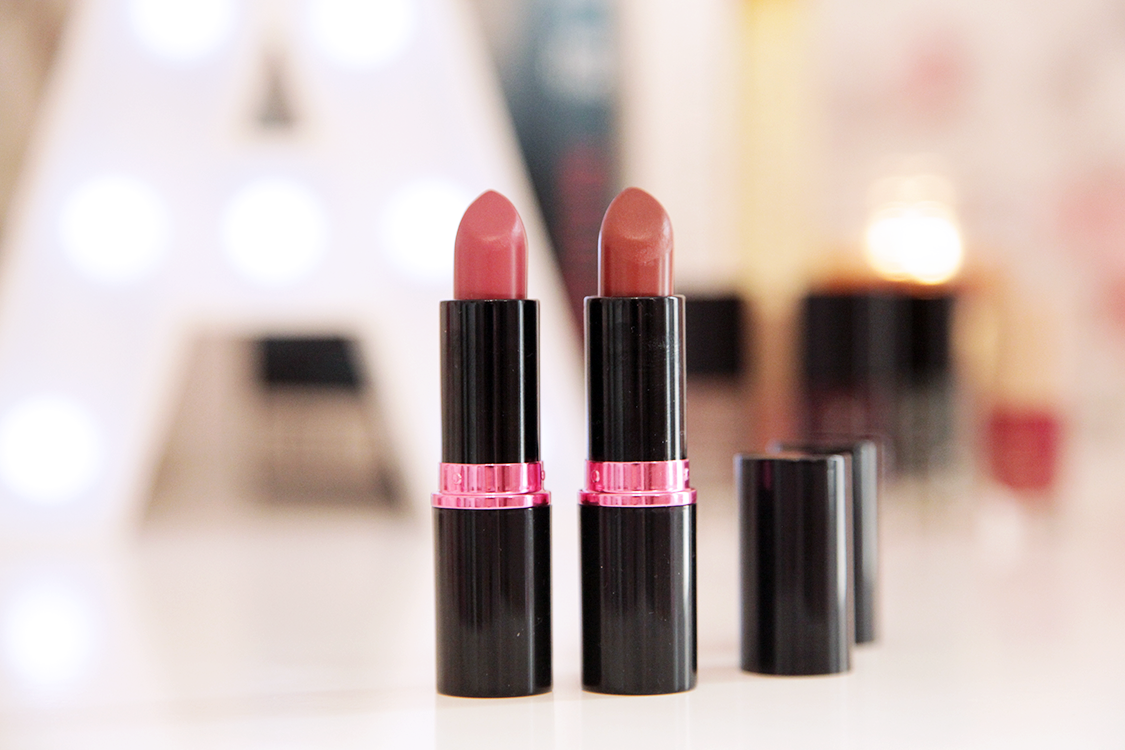 The current trend with lipsticks are the liquid mattes. However, if you are someone who likes sheer lipsticks, these are for you. They come in a very large variety of shades which will suit every skin tone and preference. The lipsticks go on sheer (not very sheer), but are buildable, and they are very comfortable and hydrating which I am sure many of us like. They also smell like cake!
Price: AED 49
Just like with the Moisture Plus lipsticks, the 12H Vinyl lipsticks are also hydrating but have a creme finish. However, they come in a liquid formula, and they have much stronger pigmentation. They are basically just like liquid matte lipsticks, only they are not matte; they give a glossy-creme finish. If you are a person who likes glosses but wants a lipstick-like color payoff, these are for you. Do keep in mind that because they are not matte (they do not set), they are not transfer proof. I have several shades but the nude and the rosey nude are my favourite.
Price: AED 59
♥
Cream and Powder Contour Brushes
Left: Cream contour, Right: Powder contour
Top: Contour side, Bottom: Highlight side
Also high up there on my list of favourites are their contour brushes which honestly impressed me. The contour brush set comes with two brushes, one for cream contour and the other for powder contour. Both brushes are double-ended, where one end is for contour and the other for highlight. Both brushes are made of synthetic bristles; the powder contour brush ends are less dense and more fluffy than the cream contour brush ends.
I love the innovative styles of the brushes; they are really unique and like nothing I already have. While I think that the brushes work well for what they are supposed to, I do think they are multi-purpose and can be used how ever one wants. For example, the contour side of the powder brush could actually work well for foundation. Also, I enjoyed using the highlight side of the cream brush for contour and the contour side for under eye concealer because it fits perfectly under the eye.
I also like the pouch that the brushes come in. Double-ended brushes are generally hard to store in a brush holder, which is why I avoid buying them. However, these come in a protective case with velcro-secured elastics to easily secure the brushes.
Price: AED 149
Fragrance
Last but certainly not least, fragrance! I have so many perfumes and body mists from Mikyajy that it is hard to use all of them to review as soon as possible. However, I did smell them all and I picked my favourites to use and to mention in this post. I can't describe scents well, but I will try...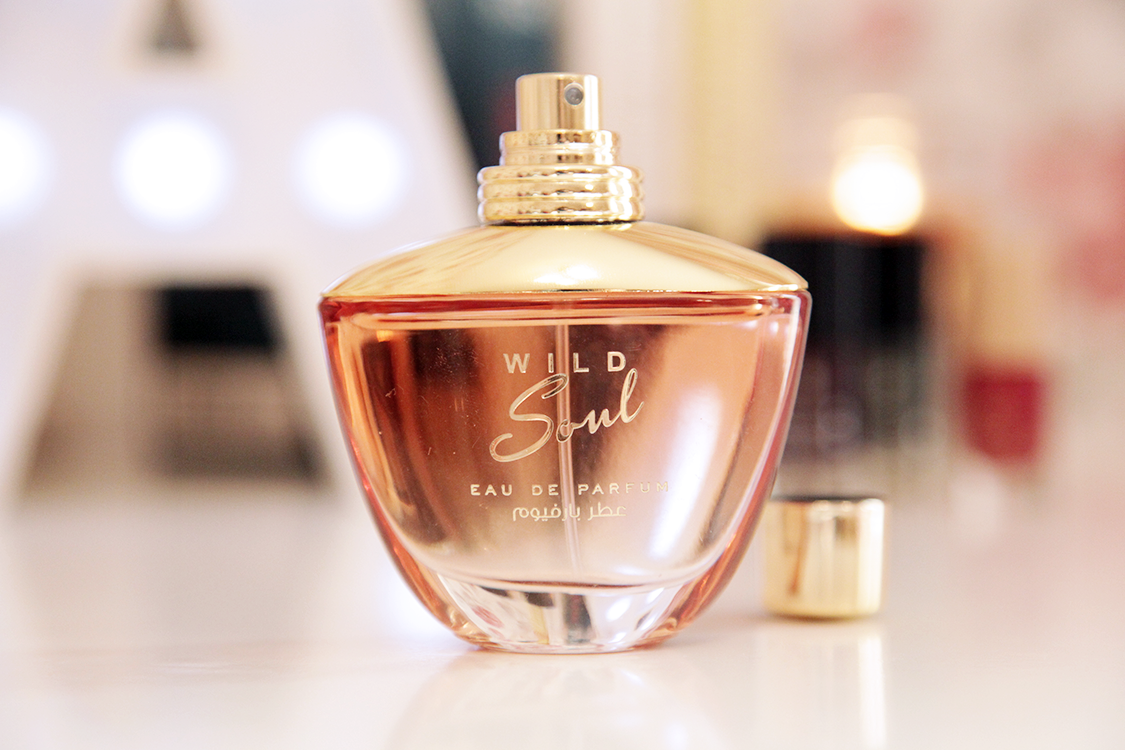 The first one is
WILD SOUL
(eau de perfum - 50 mL) which I was so happy to find in the goody bag because I fell in love with the scent when the perfume collection was introduced to us during the meeting. It is what I would describe as a deep nighttime fragrance, but it is not heavy at all. I like mixing this with a light floral scent for daytime.
Price: AED 129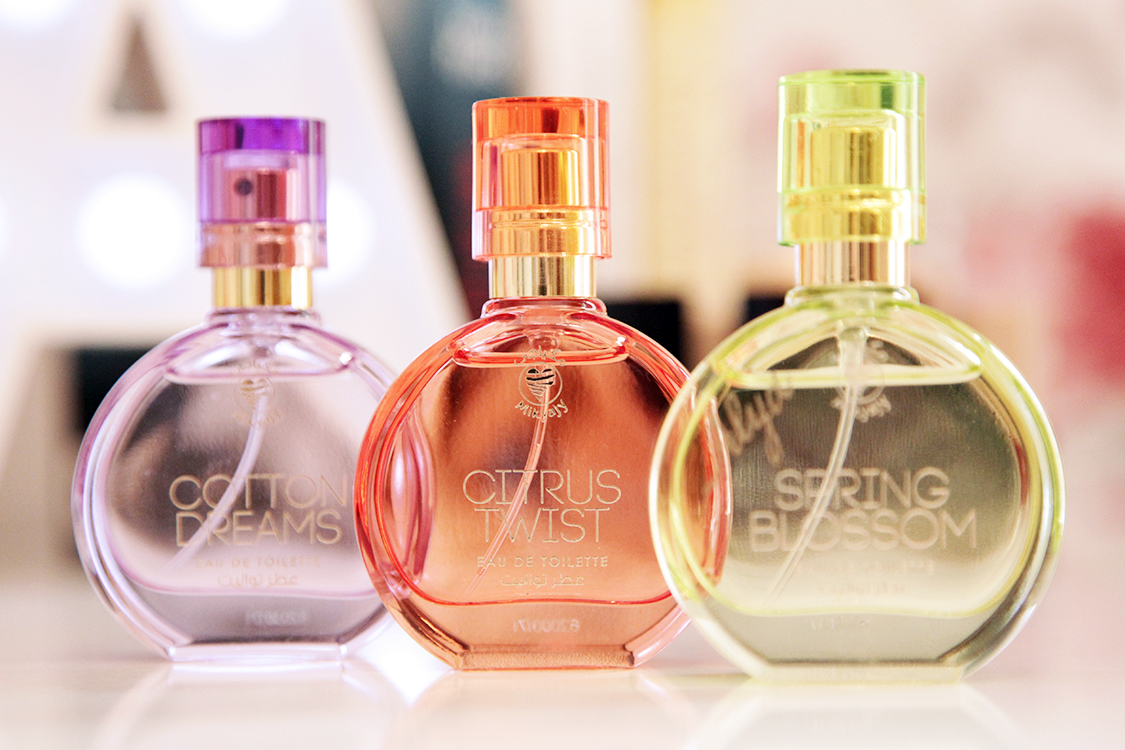 Next, from their recent Lifestyle collection is
COTTON DREAMS
(eau de toilette - 30 mL) which I would describe as a powdery yet slightly floral scent. It is very light and fresh, perfect for any day or time.
Also from the Lifestyle collection is
CITRUS TWIST
(eau de toilette - 30 mL) which smells to me exactly as its name. It is more of a fresh and citrusy scent that I recently discovered and I am in LOVE with it. It smells a-maaaazing combined with the more sweet
SUGAR CRUSH
also from the same line.
Price: AED 49
Note: matching body mists to the perfumes are available. I used both the perfumes and the body mists, but I focused on the perfumes here to keep the post shorter.
♥
♥
♥
I think thats enough for this post, even though I do have a few more products that I want to talk about.
I hope you enjoyed this post or found it useful.
Thank you for reading.
♥